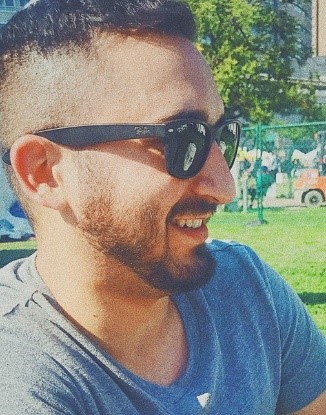 Eddie Barella - 10am to 3pm weekdays
The name they gave me is Eddie Barella, what's up? My unhealthy obsession with rock and comedy was diagnosed in middle school. At age 15 I used an unreliable dial-up internet connection to create my own internet radio station¬¬—broadcasting to a vast audience of zero (on a good day). One can only talk to themselves for so long before important questions are asked, so fast forward to today, and it's a dream come true to hang out with you, play rock, and try to find irony in everything this crazy world throws at us. For requests from Eddie call 1-855-869-7625.
http://facebook.com/theedonair
http://twitter.com/theedonair
---
Robbie Knight 3-8p M-F and assorted weekends
Hi, I'm Robbie Knight! Mom raised me on classical music and Bluebird Jazz records. But when I heard metal music, that was LIFE. I love all the Metals and the music that inspired them. I never outgrew comics, action movies or stupid jokes. And I never developed an "indoor voice". I blame that on being a game warden's kid but it's just that I'm loud, really. Life sounds better cranked up to 11.
https://twitter.com/robbieknight
https://www.facebook.com/RobbieKnightRocks/
https://www.instagram.com/robbieknightrocks/?hl=en
---
Bolognious Francine Marconi 8p-1a
8p-1a ET) WHola Rockternative enjoyer, my name is (Bolognious Francine) Marconi. Soup makes me real sweaty. I will most likely be a radio DJ until I'm a lifeless husk. To be a witness as that story unfolds follow me on socialized medias. http://twitter.com/marconibologna
http://facebook.com/marconibologna
http://instagram.com/marconibologna
http://youtube.com/marconibologna
http://snapchat.com/add/marconibologna
---
WOODY 1-6 AM
Hey, I'm Woody. I started working in radio in 2011, and I'm still doing it so there must be something to it. Maybe it's all the money! Hahahahahaha! No, that's not it. Anyways, I don't have a social media because I'm not exactly what you would call a "social" person. Besides, there's nothing I have to say that can't be followed by, "Here's Nickelback." Thanks for listening, Here's Nickleback.....
---
DARBY
---
COREY
---
TWITCH
Hey, I'm Twitch. I grew up in the strip club capital of the world; Tampa, Florida. My first job was cooking BBQ outside of one of these fine establishments. I got into radio by relentlessly prank calling the evening DJ until he finally had enough, and asked me to produce his show. Now I am married, have two little kids (Whose names escape me at the moment), and pass the time with craft beer and fine bourbon. I also like to cook, box and sleep... when the girls let me.

---